"Good Vibes" / X Trail Puchuncnaví 50km (English version)
I learnt a new Spanish phrase recently. "Buena vibra." 
But like all new knowledge, it is is very difficult to comprehend, if it is not understood in context. Last Saturday, at 11:08am, in the last few strides before the finish, it finally sunk in. 
5 hours earlier, however, it was a different story altogether.
A Dark Night
I was running along a sea cliff by headlamp, the invisible waves pounding the rocks below. A cool mist clung to my beard, and the temperate climate and the soft folds of the landscape had me thinking of England, and feeling very far from home.
With only 8km run, now was not the time for such nostalgia however. I needed an empty mind, to gather in the kms before sunrise and foster positive energy for the later stages of the race. But it wasn't happening. I bimbled along in 8th place, feeling sorry for myself and demotivated.
"How stupid" I thought "to be an ultramarathon runner, and leave behind partners and warm beds and relaxing mornings of good coffee, conversation and reading."
Slowly, the sun rolled across the Argentinean plains and, arriving at the Andes mountains, shot shards of light up its flanks, and into the Chilean sky. Other sensations returned too at daybreak. The smells of the earth mixed with the lavender that I was brushing through. The liquidy swill of the grouse's call started up from the espino bushes, and the rolling country that I traveled through by night, slowly began to steepen.
I left the last bad vibes in the 20km aid station. Three other runners arrived simultaneously, and we set about the business of breakfast together. I laughed at the gentle jokes directed at the gringo's expense, and then set off, intent to catch as many Latinos as possible.
A change of mood
Climbing mountains shouldn't be an Englishman's forte – not when racing Chileans whose training runs start from an altitude greater than Scafell Pike. But I had grown fond of the thinner air, and spent many long days in the mountains this winter. The climb brought a change in breathing and rhythm, and was a welcome break from the fast, flat pounding of the night. It calmed me down, and emptied my mind. The meat of the event – 15km in the mountains – had started. 
The few times that I have had "the flow," I don't remember much afterwards. Only fleeting moments. There was Harold Ponce climbing out of La Quebrada wearing his laser stare of concentration. A man in a tin house watching television, who greeted me as I ran past. And then, higher up – floating summits, piercing through clouds, and a waterfall of thick most air, pouring silently over a rock face, far out across the white ocean. 
I passed Luis Valle around KM32 and looked around to frame him against the backdrop, and check that I wasn't imagining it all. There'd be only a few other people on this side of the Andes who'd witness this today, whilst everyone else was reading books and drinking coffee beneath grey clouds on their sedentary Saturday. I laughed at my good luck and my swings in mood, and pushed on.
Good Vibes
At Km35 they told me I was in 3rd place. 2nd had a 25minute lead. It was all downhill now. Technical and absorbing, and I threw myself into it aggressively, keen to not be overtaken. I started to whoop and shout, grinding my teeth in pleasure at doing something so simple and hard for so many hours. I ran a few kms with other runners joining the course from their shorter distance race, infecting them with my battle cries as we paced one another noisily to the finish.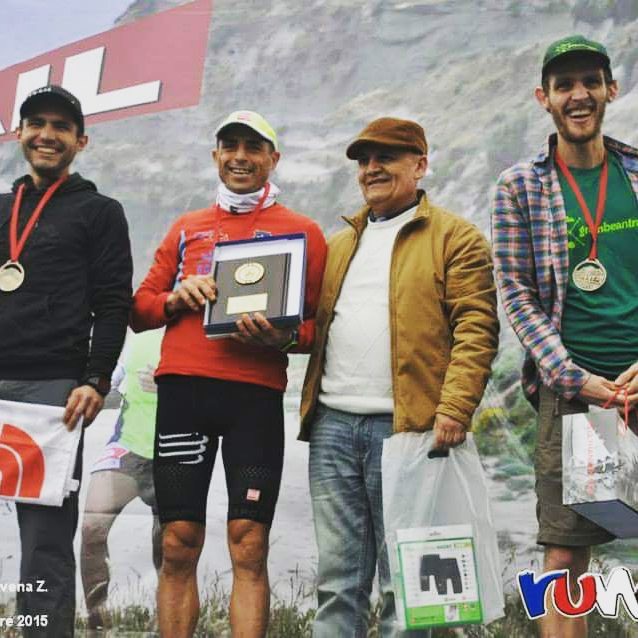 Just outside Puchuncavi, I descended a hillside to a paved road that I was certain would lead to the finish. The organiser, Crisitian Valencia, doesn't do things by halves however: His route plunging us back into forgotten copses, through fallow fields and along a dry river bed. In truth, the last kms of the race captured the essence of his race: always searching for the perfect line, guiding his adventurers down paths less travelled by and away from their lives quotidian. After crossing the finish I gave him a wild hug. He looked a bit embarrassed to be embraced by such a sweaty and affectionate gringo. But I was positively shaking with the "buena vibra," and I didn't have any other words for it.
0
0
Matt-Maynard
Matt-Maynard
2015-09-10 13:28:50
2017-08-22 10:12:15
"Good Vibes" / X Trail Puchuncnaví 50km (English version)