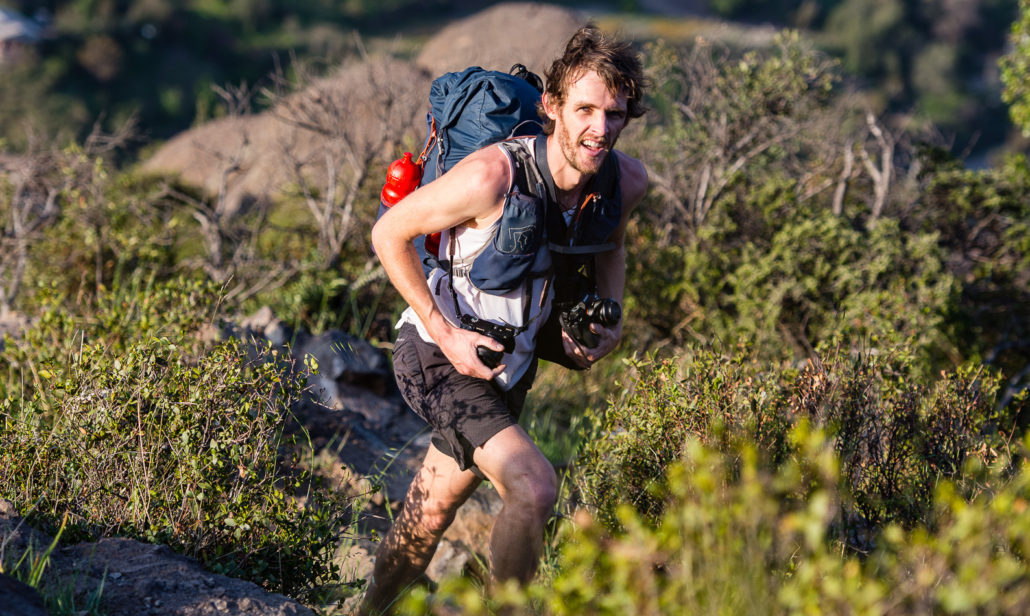 I am a mountain photographer and investigative journalist, working out of Santiago, Chile since 2014. I cover environmental stories, climate change and ultra distance sport in high and remote mountain environments. I shoot stills, produce video and write feature length copy for editorial clients as well as snappy, engaging content for commercial clients. I hold an MSc in climate change management and a BA in English Literature. I am also a qualified  Mountain Leader and ultra distance runner. I combine these skillsets, working for major international clients such as Patagonia, the Guardian, Geographical and Red Bull to bring back stills, stories and film from 6000m summits and volcanoes between Cape Horn and the altiplano.
I operate as a DOP on mountains whilst working to tight production schedules for commercial and editorial  clients, as well as bespoke expeditions for scientific research. I also work for mountain event organisers, often planning shots months in advance depending on the light and topography. I work to a brief but can be relied on to travel independently, remotely, in complex terrain and in poor weather to come back with the assets. Since 2013 I have also competed competitively in ultra distance running events, recently placing 2nd in the 2021 Andes Mountain Marathon.
I am also the Co-Director of Earth Rise Productions where we support companies to measure the environmental impacts of their activities, take steps to mitigate these and then communicate their positive actions to their customers through stills, stories and film.
Previous work has included documenting the last days of FARC in the Darien Gap as they laid down their arms in 2017; leading a British expedition to find the crashed 1948 British Stardust plane on the south-east face of 6500m Cerro Tupungato in 2019; exposing the ¨Swiss norm¨ error that shuttered Anglo American´s $3bn copper project and producing the ¨A Park for the People¨ expedition for Patagonia in 2020 where our team made the first ascent of Cerro Barco and investigated the ¨Queremos Parque¨ national park creation story. After three years creating content around the Queremos Parque campaign, the Chilean government historically declared at least half of the territory in dispute a new national park in March 2022. The campaign continues. 
2022 Lithium. Details to come
2022 Iceberg Hustlers / Geographical. Publication to come
2022 Rewilding Huemul / the Guardian
2021 Updated Fodor´s Travel Essential Chile
2021 Global South Solutions / 4000 words for Geographical COP26 special edition
2021 Research expedition in the Chilean north / Fodor´s Travel 
2021 MSc Carbon Management (Climate Change), Edinburgh University 
2021 MSc reforestry research in indigenous Pehuenche community / Edinburgh University 
2020 Revealed Swiss Norm error and glacier impact of $3bn Los Bronces project / DeSmog
2020 The biggest conservation story in Chilean history #QueremosParque /
Patagonia 
2020 5 weeks filming on Navarino Island / films to come for Chilean government
2019 Co-founded Earth Rise Productions; a production company for the planet
2018 1st place Gran Traversía de los Valles Ultra-Trail, Chile
2017 Running with wolves and rewilding research in Sweden /BBC
2016 How to hike the Grand Canyon /
Guardian
2016 Araucanía 450km bikepacking expedition, Chile
2014 Mountain Leader  and wilderness first aid qualified
2014 8th place at British Ultra Running Championships
2014 1:14:04 Half Marathon PB, Bath UK
2013 Cycled from Bath UK to Slovenia
2011 – 2012 Cycled 5000miles from Patagonia to Paraguay
2009 Onsight climbed The Butcher (E3), Bloody Sunday (E4) + Star Wars (E4) in 24hrs
2008-2009 PGCE Teaching Training English and Outdoor Activities
2008 Bouldering trip to Hampi and Indian Himalayas
2007 SPA climbing instructor
2007 Climbed Jebel Toubkal, highest mountain in N.Africa
2006 Climbed Mont Blanc, highest mountain in Europe
2004-2007BA (Hons) English Literature, York UK
2004 CASI1 Snowboard instructor qualification 
2004 Won the Raleigh International Mountain Marathon with 18-y/o team mates
2003 Ran the Raleigh International Mountain Marathon with 17-y/o team mates
var sbiajaxurl = "https://matt-maynard.com/wp-admin/admin-ajax.php";