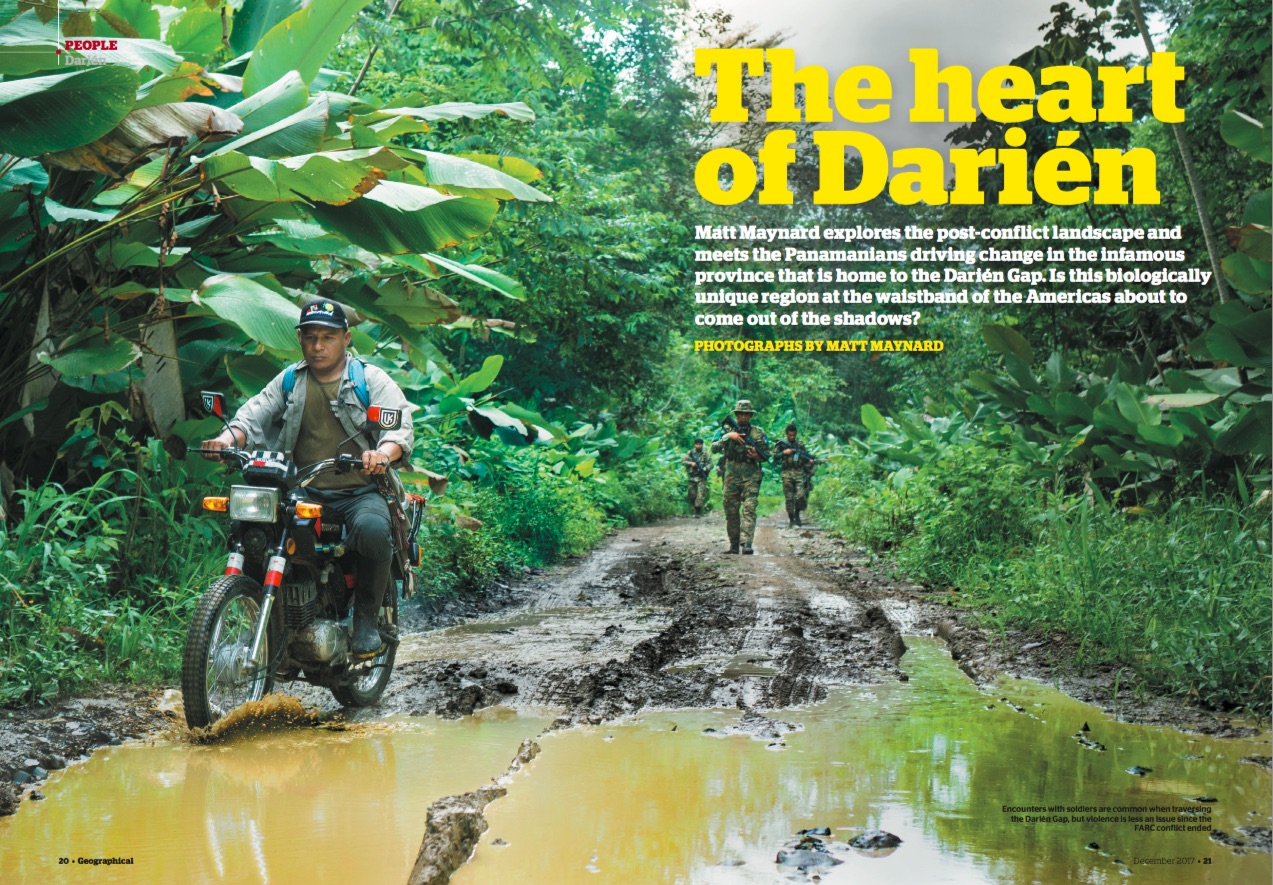 In April I travelled to the Panamanian jungle on the border. My goal was to photograph and write a story about the potential development opportunities in the area following the disarmament of FARC.  
The Royal Geographical Society published the feature in their December 2017 issue.
You can the start of the article below:
The star fighters are attacking. Or at least that's what it sounds like. The high-pitched gurgling of the black oropendola bird is like a Star Wars ray-gun effect being strangled out of an 80's synthesizer. Every few seconds a lightening-yellow tail feather flies out of the great guayabillo tree some 40metres above the remote dirt road. The long pendulous nests dangle from thin branches like knitted Christmas stockings.
It's a gift of a sighting. But suddenly, after five days of remotest travel in the Darién province, something even rarer happens. An open top jeep with a half-dozen white tourists comes rolling along the track. The weather at the start of the monsoon season is as unsettled as the recently brokered peace with the Revolutionary Armed Forces of Colombia (FARC), whose activities have been known to spill over the border. But just for a brief moment – with the tourists' binoculars trained on the giant guayabillo birdhouse – the scene resembles any normal exotic safari. And then the men with guns arrive.
Twenty border police, known as SENAFRONT, armed with assault rifles, camouflage gear and twitchy eyes come trekking down from deeper jungle. They look like they have been on their feet some time. The startled tourists are quickly whisked away by their driver. But my guide Isaac Pizarro and I are on foot and we get mixed up with the armed men.
http://matt-maynard.com/wp-content/uploads/2017/11/Heart-of-Darien-PDF-e1511191988762.jpg
209
300
Matt-Maynard
Matt-Maynard
2017-11-20 15:41:49
2018-01-17 20:40:49
Heart of Darién / RGS Geographical magazine